We're hiring a Senior Business Strategist
At Made by Many, we work at the intersection of business strategy, product design and software development. Strategists, like everyone else here, play an important role in all three of these disciplines.We're looking for a senior business strategist to work with designers and technologists in a creative environment to develop new product ideas and bring them to market.
As a strategist, your time is divided between existing and potential clients. The mix fluctuates over time, and you have to be equally comfortable with both.

Our work requires us to balance user needs with business objectives: the right products for our clients are the ones that meet both. A strategist's focus leans slightly more towards the business end of the spectrum, and this is reflected in the responsibilities outlined below.

For our current clients, you analyse, qualify, interpret and communicate their business (and political) objectives, both internally at Made by Many and externally within the client organisation. You identify innovative new business models and product opportunities and work with clients to optimise existing ones, all in response to user, cultural and business insight. You need to be a confident and capable communicator, equally at home in long-form text or presenting a vivid visual description of a service idea.

You also design, adapt and improve processes to ensure that Made by Many's work is efficient and effective, and work with the management team to plan workstreams, structure project teams and build client relationships.

You are fundamentally creative, but also fluent in product management, project management and marketing concepts and processes – Lean and Agile, product analytics, P&L/financial forecasting, customer acquisition and retention – as our work often extends well beyond product innovation to marketing, optimisation and organisation design. You should be comfortable working with senior management teams and C-level executives, and in dealing with complex systems and processes.

You also have familiarity with some aspects of software architecture and development, as well as interaction design, visual identity and industrial design.

On the new business side, you take responsibility for representing the company, winning new clients and the entire process behind this. You seek out and develop relationships with potential clients, articulate and discuss Made by Many's capabilities, and build and present proposals in consultation with the management team and our design and technology leadership.

People at Made by Many come from a huge range of backgrounds, and we imagine that this role might be a good fit for someone who has worked for an established consumer technology brand, in a technology startup or in venture capital or private equity in the technology sector – but we certainly don't have any strong preconceptions on this front. It might also be a good fit for a recent MBA with prior product management experience but, equally, some client-service experience in consulting or elsewhere would also be valuable.

Vertical experience in retail, media, travel, hospitality, healthcare, government or the third sector might also be useful, client-side or as a consultant.

What's more important, however, is that you have a good understanding of the dynamics of business drivers, customer needs and technology opportunities, and that you're excited by experimentation and uncertainty.

You'll be a key driver of Made by Many's continued evolution in terms of process, product offering and capabilities, as well as being able to fulfil the roles described above.

Direct design and software development knowledge and experience is massively beneficial – you'll spend much of your time working in a team with designers and developers throughout client engagements, and so need to be both comfortable with and capable of contributing to this sort of highly creative, vibrant product-focused environment.

If this sounds like the job you can do and the sort of place you'd like to work, please apply using this form.

As always, we don't deal with recruiters.
Further Reading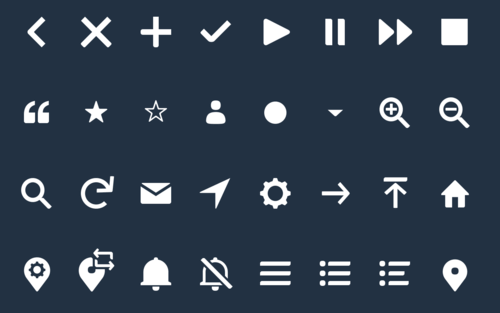 Adam Morris
Over the years, I've been challenged with designing several icon sets for totally new and established brands. Whenever I start concepting and designing a n...
Adam Brodowski
At Made by Many we believe in working extremely closely with our clients. So closely that our NYC studio regularly sends teams to work from within our clie...
All stories